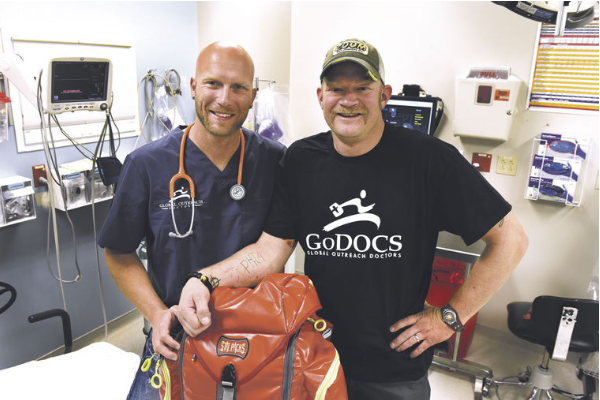 By Phaedra Haywood, The New Mexican
Chris Hammond and Tylerr Jones are brave, but the two men also are smart enough to take seriously the risks of working in a war zone.
The two friends — a doctor and nurse who met while working in the emergency room at the Los Alamos Medical Center — left New Mexico at midnight Friday and headed for the front lines in Mosul, Iraq, where U.S.-backed Iraqi troops are battling Islamic State militants in what has been described as some of the deadliest urban combat since World War II.
"It's super scary," said Jones, a firefighter with the Santa Fe Fire Department and an emergency room nurse in Los Alamos.
He and Hammond are members of Global Outreach Doctors, a Santa Fe-based nonprofit that sends medical professionals to locations around the world where local resources are overwhelmed because of events such as natural disasters and war. The two men were bold enough to volunteer their steady hands, nerves of steel and medical know-how to help treat civilians who have been injured by bombs and bullets in the ongoing conflict.
"I'm pretty good at pressure," Jones said, "and I can work trauma, and I do want to help. When you are a fireman, you have to get comfortable with the idea that you might lose your life trying to save someone else's. I've been mentally preparing for this my whole life."
Jones said his wife of eight years — with whom he is raising a 5-year-old daughter — is "not too thrilled with the idea." But, he said, gratitude for the life he shares with his family was one of the reasons he chose to make the trip.
"I feel extremely blessed and fortunate," he said, "and every time I see something bad happen to a kid, I'm just grateful I have a happy, healthy daughter. The best way to show that gratitude is to help other people who don't have that. I feel like it's something I need to do."
Hammond, who also is married and has three children, said facing his own mortality after seeing his father die from cancer at the age of 58 is part of what prompted him to volunteer for the work in Iraq.
The emotional impact of preparing for the trip has been "more interesting than I expected," he said.
"I have good days and bad days where I worry about the 'what ifs,' " Hammond said the day before he left. "I spent yesterday morning crying on the couch, writing letters to my wife and kids. I don't want to be dramatic. I'm not a solider. But things happen in war zones, and I love my wife and kids, and I wanted to tell them some things I never got to tell them or told them but I don't want them to forget, in case I don't come back."
Global Outreach Doctors was founded in late 2014 by naturopathic doctor Andrew Lustig.
The organization's first mission was to Nepal in 2015 after a massive earthquake killed nearly 10,000 people and injured about 25,000 more. On that trip, the organization sent a team that included search-and-rescue dogs.
Since then, Global Outreach Doctors has sent medical volunteers to the Syrian border, the Island of Lesbos and Kenya. In 2016, the group sent a team to Orlando, Fla., to help treat patients injured in the Pulse nightclub shooting, in which 49 people were killed and another 53 were wounded.
The growing organization has about 100 team members around the world, including about a dozen from New Mexico. Hammond and Jones, along with a paramedic from Australia, are the first team the organization has sent to an active war zone.
They'll join dozens of others from other nongovernmental aid organizations, including New York City Medics Global Disaster Relief. The groups will be stationed at one of three trauma stabilization points established in the region since November. They'll be living about a half-mile from the front lines for three weeks.
According to WHO, 3,330 people, mostly women and children, have been injured in the fighting since October.
Those are the people Hammond and Jones are going to help.
They're also willing to treat military personnel or anybody else who needs their help, Hammond said.
"Hopefully it's not ISIS members, he said. "I don't want to take care of people who are trying to kill me, but I will. That's the nature of emergency medicine. You treat whoever walks through the door. When you are in medicine, you aren't so political. You just take care of what's in front of you."